Blue Mosque
To Sultan Ahmed I (1603-1617) fell the honor of constructing a mosque on the plaza that could rival and reflect the magnificence of Ayasofya. This structure is frequently referred to as the "Blue Mosque" because of the extraordinary tiles decorations. These tiles, whose blue tones imbue the interior with an ethereal atmosphere, were produced in Iznik when the industry there had achieved full maturity.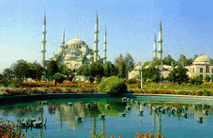 The Sultanahmet mosque is also unusual for its six minarets and it is the only mosque in Istanbul with so many. (In Ottoman times, only sultans and the members of their immediate families were allowed to build mosques with multiple minarets.) The building is the work of the architect Ahmet Aga, who adhered to the mosque-building traditions established by the great Sinan. Construction began in 1609 and was completed in 1616. The practice of stringing up lights between the minarets of mosques spelling out messages during the Ramazan month of fasting was begun by Ahmed I and has since become a custom.
(Open every day.)

The Basilica of St. Sophia, now called the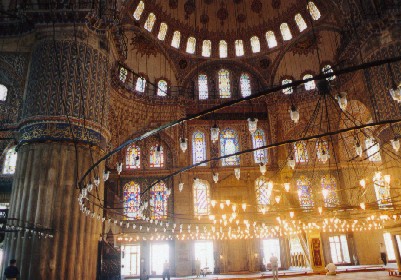 Ayasofya Museum is unquestionably one ot the finest buildings of all time. Built by Constantine the Great and reconstructed by Justinian in the 6th century, its immense dome rises 55 meters above the ground and its diameter spans 31 meters. You should linger here to absorb the building's majestic serenity and to admire the fine Byzantine mosaics. (Open every day except Monday.)
Enjoy your visiting, thanks for choosing to browse with hotelsinturkey.net
Please visit again.
IstanbulNet
Computer, Publishing, Tourism-Travel Exp.-Imp. Co Ltd Sultanahmet - Istanbul / TURKEY
Phone:+90 212 516 5528 Fax:+90 212 516 5487












Our

joiners are:

Artemis Hotel

Barin Hotel
Cordial House

Pisa Hotel

Sogut Hotel

Yigitalp Hotel

Rose Hotel

The President Hotel

Hotel Bulvar Palas

Kent Hotel
Sayfanizi
yayinlatma
detaylari için
lütfen click
Hotel of week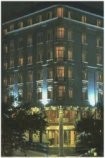 Enjoy your visiting, thanks for choosing to browse with hotelsinturkey.net
Please visit again.
Balloon Tour


You can find and fly the balloon at Cappadocia City